29 April 2022
Well done to the learners who participated in the Half-Marathon event held on the 9th of April and thank you to the teachers and parents who supported their endeavours!
We managed to get a few pics of some of the athletes on the day and some even made the local paper!
Shrewsbury half marathon finish for 1,500 youngsters | Shropshire Star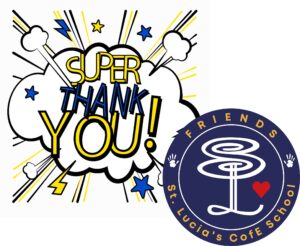 A special Thank You to the Friends of St Lucia's for organising and donating Easter eggs to all of the children on the last day of School in time for the Easter Holidays!
The Friends continue to play such a key role in adding to the overall school experience for the children and helping to add "a little something special" for them!
If anyone is interested in being involved in any aspects of Friends projects and plans at St Lucia's, please pass your details on to the office. It's a great way to meet other parents and support the children!
Jubilee Celebrations… work in progress…
Our Key Stage 2 children are working on a special musical presentation for the Queen's Jubilee celebrations, with the expertise of Dr Wolfe. We can't wait to hear what they've prepared for us!
Tennis Workshops
On Wednesday this week, all our children had the opportunity to attend Tennis workshops with coaches from the LTA/Shrewsbury Club.
Thank you to the Team that made this possible – it looks like much fun was had by all!
Wishing everyone a safe and happy long weekend – See you on Tuesday the 3rd of May!