St Lucia's School is proud to be part of a wonderful local community in which we aim to work together and support each other as often as possible.
The School has loved being able to host members of the community for a school lunch in the past and we hope to be able to do that again soon in the future.
We also enjoy and appreciate the enthusiastic support of the local Church members and are able to share special Services and events at St Lucia's Church, such as Harvest Festival, Christmas Carols and Services, special School Services, Gardening Projects and more.
The lovely children's play areas at the school are open to families to enjoy outside of school hours and during the school holidays. These help to provide wonderful open spaces and a variety of play equipment for the children to enjoy with their families. We so appreciate the members of the community who use these facilities with care and respect so that we can all benefit from them throughout the year.
Local businesses and organisations have also shown their support for the school over the years, through sharing resources and expertise with us, which is so valuable to all that we strive to achieve within our community.
Check back here to see any community news, upcoming events or important information for our community!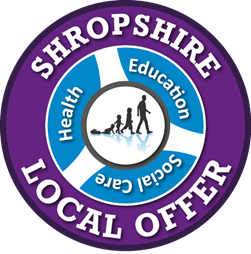 As a parent or carer of a child or young person who is on SEN support or has an EHCP, take a look at the Shropshire Council's SEND Local Offer!
The site provides a lot of information, support and resources for parents/carers of children with SEND including education, EHCPs, health and wellbeing, early help, family support, financial support, transport, things to do and lots more!
www.shropshire.gov.uk/the-send-local-offer