06 May 2022
Assembly Accolades!
We had a lot going on in assembly this last week!
Mr Barnes from the Student Council issued Commendations to the participants of the Shrewsbury Half Marathon.
We have also had a visit from Mr Ray Hughes, the Shropshire Road Safety Advisor, who was so impressed with all the wonderful road safety posters that our children created! He had the very difficult task of choosing the overall winners of that competition, whose work will be used in our ongoing road safety programme.
We have also had certificates issued to our "Litter pickers" who have been hard at work helping to clean up litter, both around their homes and at school.
Well done everybody on all your efforts!
School Gardens
We've had some "garden fairies" hard at work on our gardens, now that Spring is finally here! Teachers, Pupils, Mums and Dads have been weeding, planting, watering and tidying up the gardens. Thank you to those parents and teachers who have also donated plants for our gardens – they have all helped to make our garden areas cheerful and inviting to all the little insects and creatures we are hoping to attract, as well as for all of us!
We hope that everyone gets a chance to sit quietly for a few minutes on our lovely bench and watch the bees at work and enjoy the little pools of colour that are developing in our garden, maybe even a little sniff of the delicate fragrances of the lavender and jasmine. Please encourage each other to keep to the little pathways when inspecting the bug hotel, or stooping to look at the flowers as you come in and out of the school, we really want to nurture our garden and allow it to grow into a beautiful shared space!

Platinum Jubilee Celebrations
Parents are invited to join us in celebrating the Queen's Platinum Jubilee on the 25th of May at 12 noon for a picnic lunch.
Special lunches can be ordered from the school and you can bring along a picnic blanket or folding chairs to relax and enjoy the pretty countryside views from inside our school grounds.
Children from Class 3 and 4 will be performing in a special musical event at St Lucia's Church at 2pm, which Class 3 and 4 parents are invited to attend.
If you require any further information on these events, please refer to the letter sent out, or contact Reception.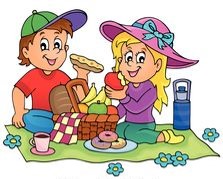 SATS & Checks
SATS for KS2 begin this coming week (9th-12th of May) and for KS1 the following week (16th – 18th of May), followed by phonics and multiplication checks for Year 1 and Year 4 in the week of the 7th of June.
It is important that the children are at school, especially on these days. We hope all our pupils feel calm and confident and enjoy the challenge and experience of these assessments! Well done for all the hard work this year (especially) from the Staff and children in preparing for these assessments!