Friday 4th February 2022
Harvest Hampers
A huge thank you to our supportive families for their generous contributions to our Harvest collections in support of the Barnabas Community Project based at Coleham, Shrewsbury.
The School Council Representatives from each class decorated the 12 large hampers beautifully, with harvest-themed designs and details. Each of the hampers were then filled with much-needed supplies for families in need and handed out towards the end of the year, at a time when so many were struggling in our community.
"This has been a fantastic appeal which has been run and managed by the school council and very generously supported by their family and friends. Our pupils wanted to make a small difference to those less fortunate within their local community. We are extremely proud of their drive and commitment throughout the appeal." – Mrs S Woolley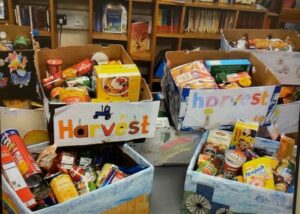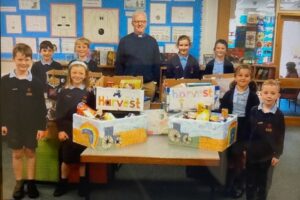 Fantastic Phonics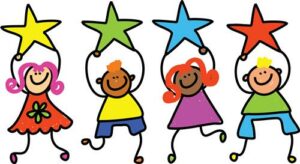 Very well done to all of our previous Year 1 children who achieved 100% in the Phonics Screening threshold when they were assessed in Autumn 2021!
This demonstrates the positive impact from our catch-up learning programmes of support since 2021. Congratulations Teachers and Pupils on your fantastic phonics!
New Owl & Bird Boxes
Some of the dads and governors completed the precarious task of installing the impressive owl boxes that were donated to the school as part of our garden and outdoor environment project. As we appreciate the birds in our local area with the recent Birdwatch initiative, we hope to encourage owls and other birdlife into our school with these new boxes.
Thank you again to CJ Wildbird Feed for the amazing boxes and also to the team for putting them up for us!
The Friends' Christmas Gift Table
The Friends held an improvised Christmas gift table at the end of term, after bigger plans were sadly cancelled by covid, and were able to raise just over 130 pounds!
Thank you to all those who supported that fun mini shopping spree!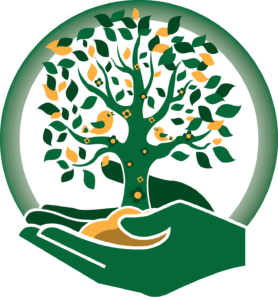 St Lucia's VISION & VALUES    
The Lichfield Diocese team, along with the staff at St Lucia's have been working hard to take into account all your valued input regarding what our school strives to provide the children in the broader school journey. The new Vision and Values can now be seen on the "Vision and Values" page on the school website!
Second-Hand Books Donation
A member of the local community was able to arrange taking some of the second-hand books that we at St Lucia's no longer had need for and pass them along to a school in Sri Lanka!
Below is their account of this eye-opening experience and the wonderful response from that school to this donation.
Thank you Jennifer, Matt & Patricia for sharing this with us!
By way of background I am a regular visitor to Sri Lanka. A few years ago I expressed a wish to make a donation to a school around the time of a Christmas visit. There are a number of very worthy charities set up in Sri Lanka to help the children, particularly focussed around Colombo however there are also many small rural communities with schools that do not receive any charitable support and it was suggested that I might look to provide support to one of these schools.
The headmaster of a rural school that I approached, suggested that shoes were much needed, particularly in the worst of the heat some of the children cannot come to school because the ground is too hot and they do not have shoes. For the last two years I have provided shoes and socks for each child. I visited the school on the first occasion and was able to see how grateful they were for this small gesture, it was very humbling.
During my visit I asked the headmaster what else the school needed and he mentioned that they do not have good teaching books for English. Very soon afterwards the teachers in your school were generously collating books to send to Sri Lanka!
There is limited government support for the schools as the country is very poor, assistance from charities makes such a significant difference to the lives in the community. For any to progress out of poverty they must understand and speak English, as tourism is a major industry in the country.
The pictures show the English room at the school, which is beautifully decorated, but I noticed had a very small supply of books on the shelves. This school is fortunate to have a dedicated English teacher and the headmaster also spoke excellent English having been educated at an English-speaking university, he fully understands the importance of teaching these skills to the students. I was amazed at the English speaking skills of the young children and it is a reminder of how much they value their education.
The teachers at the school were absolutely delighted with your donation and arranged a presentation and speeches to thank all of you and your efforts.
Thank you very much for your efforts and donating these books, I was fortunate to be able to see first-hand the benefits these will provide to the students and I hope you can gain some sense of this from the photographs.
With my very best wishes
Patricia